What does a life setback actually sound like? If you had to pick a standard-issue noise, you'd surely go for "BOH-BONG", the iconic sound-effect you get for a wrong answer on Family Feuds. Grant Denyer concedes it's a sound that would've punctuated his life a lot over the years, and not just because he's the host of the show.
Think of Denyer and you immediately picture a ferociously upbeat character with a massive perma-grin. Yet behind his perky demeanour on-screen, Denyer has overcome more drama than most. A keen motor-racing driver who's clocked up over 500 races, Denyer broke his back in 2008 when he crashed a 7.5-tonne monster truck. The injury left him sidelined for months and left him battling depression and painkiller addiction. Happily, he bounced back to reboot his TV career in emphatic style, scooping a Gold Logie along the way.
Since then he's becoming a dad to two daughters – Sailor and Scout – with his wife now pregnant with the couple's third child. But Denyer's initial experience of fatherhood was clouded by his wife's post-natal depression, an experience he admits the couple didn't recognise until far too late.
Here the 43-year-old reflects on the work/life juggle, beating depression and his determination to foster self-belief in his kids.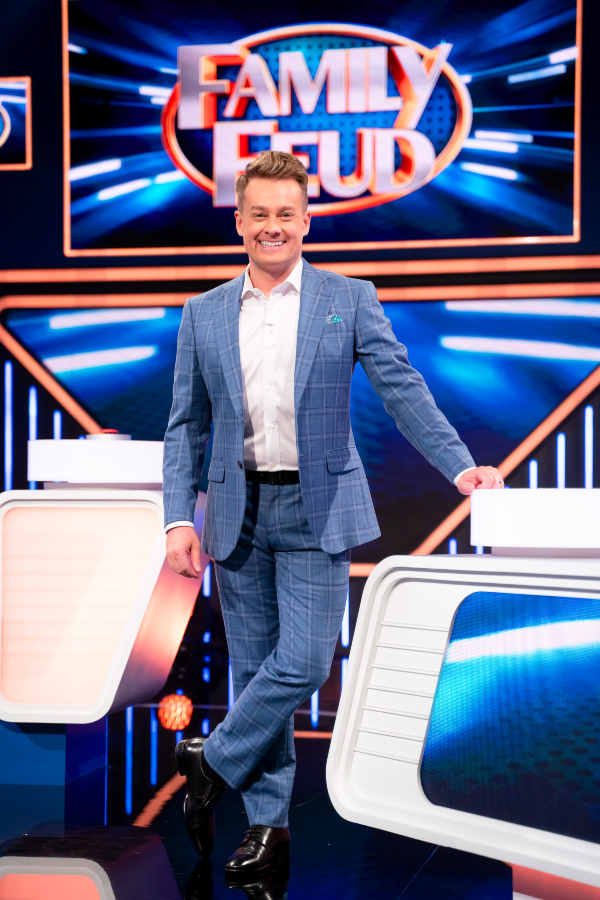 "I always had a certain drive. I grew up with my mum down in Victoria. She was a single mum and life was tough for her and pretty basic. In the area that I was growing up in [Avoca and later Dandenong] it didn't feel like there was a whole lot of hope around. As I looked around me, I couldn't see anyone with a life that I really aspired towards. So I went out and created one myself.

"I was always looking forward. My eyes were always up the road: What's my next two steps? What's my five-year plan? What's my 10-year plan? I was never prepared to settle and I was always goal-chasing quite aggressively.
"But sometimes that comes at the cost of friendships or maintaining family relationships because you start to become unavailable. When you're juggling four jobs at once – which I've done many times in my career – there's just no room. You're missing people's birthdays. Your mates ring up and say, "Hey, do you want to go for a pizza and a beer?" After the seventh time of you saying, "No, I can't make it," they stop calling. So work becomes the entirety of your focus and I've often questioned as to whether that's healthy or not.
"But that's what you do when you're younger and trying to break ground. I always said "yes" because opportunities breed opportunities. And while that was a good decision back then, whether you could maintain that ferocity forever, I'm not so sure.
"Then when I became a father it was like: do I stop my career or slow it down to become more present at home? Or do I continue and show my kids what's possible? It was a really tough question to answer. I'm so lucky that I've got an incredibly strong, smart wife who does a lot of the heavy lifting at home. I'm very aware that I couldn't do my career without her.
"Personally, I came to the conclusion that maybe it's better to lead by example and show my kids how limitless life can be if you've got a good attitude and some 'go-get-em' gusto. I think it's good to keep pushing because it readjusts their bar of what's possible so hopefully they won't settle for less and will continue to strive. As long as you're a good parent and you're mostly there for your kids, I think, it's a healthy lessons for your kids. Fear is a massive handbrake to a lot of people and if you don't think you've got a chance at something, then you're not going to try it. I believe my job as a dad is to say to my kids, 'Hey, have a go at anything. You never know where it might go.'

"But there was a time I was living life pedal to the metal. I was racing on weekends in V8 Supercars and then during the week, I was working on Sunrise as a weatherman and making TV shows like Australia's Got Talent at night. I was juggling this incredible workload. And then the broken back came along ([after the monster truck accident] and then suddenly everything just… stopped.
"For someone who's lived life that hard and fast, that was an awfully difficult period. It just all came to such a crashing halt. And I didn't cope very well with that. Being flat on my arse for four months, it took a lot of mental processing. It was a dark period because I wasn't used to being so passive in my life. It was horrible – the pain, the medication, the fact that I was immobile… I used motor racing as the carrot to get through that. I knew that once I could win a race again, then it was proof that I was fine again and I could close that horrible chapter. And that's what I did. They were hard lessons to learn, but that's probably where I found my most grit and determination.
"Fatherhood gave me more purpose. Before I was quite frivolous with the opportunities I got and maybe took them for granted. But having a child gave my life more context. It was like, "Okay, I see what I'm doing here – I'm building a family, I'm building my child's long-term future". That made me cherish my opportunities more. It changed how I worked.
"When it came to my wife's postnatal depression, I must admit I feel bad. Because I missed it. I think we only realised the extent of the postnatal depression well after the event, and by that I'm talking years. Neither of us recognised it. My wife was such a strong, independent woman she was very good at not giving into the condition and not letting anybody know the degree to which she might've been struggling. So my greatest disappointment is the fact that I just wasn't there to recognise what she was going through. I wasn't able to help her more.
"The fact that we let it go undiagnosed for so long is a great shame. But my eyes weren't open enough, I didn't know enough – I just thought this was the new norm when you have a baby. I now know just how common that condition is. We now know that we were in a reasonably extreme case of postnatal depression.
"We're fine now and everything is good. But we learned a lot more from that first pregnancy. If postnatal depression does happen to you as a couple, don't be afraid of it. Diagnosing it and acknowledging it lifts the load and releases the pressure – it will change the game for you as a couple and as parents. Don't be afraid of any stigma. I wish we had put a name to the condition when it was happening. Because it could have meant a very different experience for my wife.
"Family Feuds means the world to me because I made over a thousand episodes. And it came at a time when I really wasn't doing much else and I thought, "Maybe I'm done now in television." So doing the show reinvigorated me and re-launched my career and took me on to a Gold Logie, so it holds a very special place for me in my heart. Primarily I love it because it's just ludicrously silly – it's wonderfully stupid. And there's absolutely nothing wrong with silly. There are other people making noble television shows. They can have noble – I'll take silly any day of the week."

The new series of Family Feuds starts on Sunday August 16th at 7.30pm on Network 10
Are you or your partner struggling with depression or anxiety? You're not alone. Click here to take the PANDA checklist to help you clarify what you're experiencing and assist you to get help if necessary. Alternatively check out the Gidget Foundation's support services for dads: here