By his own admission, Elton John is an unlikely father figure. "If you'd tried telling the Elton John of the 70s or 80s that he could find more fulfillment on a deep and profound level in changing a nappy than in writing a song or playing a gig, you'd probably have had to exit the room at high speed immediately afterwards, with crockery flying past your ears," he writes in his new autobiography, Me.
But the Rocket Man star did eventually become a dad at the ripe old age of 63. He and his husband David Furnish are parents to Zachary, 8, and Elijah, 6, who were both conceived using the same donor eggs and surrogate.
Elton's former rock'n'roll lifestyle also means that he's largely unfazed by the demands of his kids. "I even found the toddler tantrums weirdly charming. You think you're being difficult, my little sausage? Have I ever told you about the time I drank eight vodka martinis, took all my clothes off in front of a film crew and then broke my manager's nose?" he writes.
Elton reveals that his paternal instincts first kicked in during a 2009 visit to a Soweto drop-in centre for orphaned children living with HIV.
"A small boy wouldn't sit with the other kids," he recalls. "He just seemed to take a shine to me. He was called Noosa. He was adorable. I realised I felt something that wasn't pity or fondness. There was a flicker of something more else there."
At the time, he discussed adopting the child only to discover that Noosa was living happily with his grandmother and a sister.
But later that year he met a boy called Lev at a Ukrainian orphanage that convinced him he really wanted to be a dad. While it proved impossible to adopt Lev, Elton worked with a charity to get him and his brother out of an orphanage and fund their lives with their grandmother. "When the Russians invaded Ukraine, we worked with the same charity to evacuate them to Kiev. We'll always keep an eye on them."
The couple's oldest son was born on Christmas Day 2010. "We called him Zachary Jackson Levon. Everybody assumes the last name came from a song Bernie and I wrote, but they're wrong: he's named after Lev. He had to be.
"Lev was like an angel, a messenger, who taught me something about myself. Lev was the reason we were there, on a maternity ward, holding our son, knowing our lives had completely changed forever."
Aside from the autobiography, another new book out this month is Elton John, The Definitive Portrait (Hachette, $49.99) by photographer Terry O'Neill. The pair worked together for years taking in excess of 5000 photos, with the book revealing a host of shots never previously seem.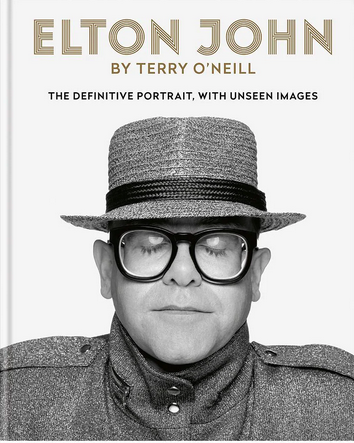 All photos from: Elton John, The Definitive Portrait (Hachette, $49.99) by photographer Terry O'Neill