My dad, Tim Cahill Senior, was a character. He was from London, a Dagenham boy and he liked to have a joke. But discipline was a big thing for him, too.
He would take me and my two brothers to the park and then make us take off our right boots so we could only kick the ball with our left foot. "A great footballer has two good feet," that's what my dad used to say.
As a boy, I used to see the lights flickering in the hallway in the early hours and know my dad was watching the football on TV. I'd sneak out of my bedroom and hide behind the settee to watch too. Dad would let me watch for a while – Serie A or Premier League highlights. And then he'd send me back to bed.
But what I really loved was watching the World Cups on TV with my dad.  Watching Schillachi play in Italia 90 – that's what got me. And then USA 94, seeing Hagi for Romania and Bebeto for Brazil! As a kid, it was my dream to play in the World Cup.
Dad worked on the trawlers and then went into rigging. But he had a serious injury at work that damaged his hip and after that he spent a lot of time at home. Dad used to do most of the cooking and was pretty good too. Chicken schnitzel or pasta with cheese sauce – those were his specialities.
He made sure my brothers and I became domesticated too. I'd wash up, my brother would do the drying, we'd do all the vacuuming, make the beds…. We learnt how to work together as a family.
Now I'm a dad I've become like that with my kids too. If they want to go to the movies they have to make sure their room is clean and they've taken out the rubbish.  They have to know the value of work.
The best piece of advice my dad gave me? "You can't live in a car." I was signing my first contract at Millwall and I wanted to buy myself a nice new car. But after talking it over, instead I invested that signing-on fee with my family. We all saved up – my parents, my brother and myself.  Together we bought our first home in Horningsea Park, in the outer west of Sydney.
My parents had taken out a loan to pay for my plane ticket to England for that Millwall trial. And my brother left school to get a job so he could help too. We've always supported each other. Because that's what families do.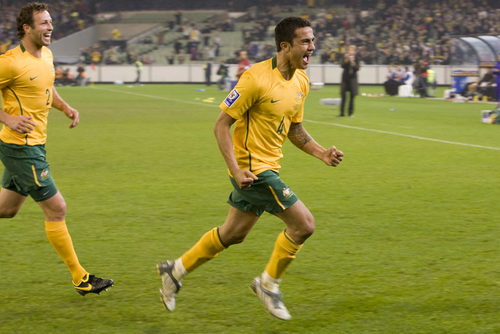 I was 24 when my first son Kyah was born. My career was just kicking on and I was just about to get my big move to Everton. Becoming a dad was a shock. Before that I was just eat, sleep and focus on football. Suddenly we had this little man, this little king! I now had serious responsibilities and football started to come second. Becoming a dad changed my whole life and was the best thing that ever happened me. But it was my biggest learning curve too. Kyah had non-stop colic for the first year too so we didn't get much sleep.
What I find hardest about being a dad is disciplining them. You want to be their best mate and you don't want to be the disciplinarian. But you have to sit down with them and have those conversations. I try to relate things back to what it was like for me at their age.
One of my sons wants to be a singer. One of them wants to a footballer. But my six-year-old told us the other day that he want to be a landscape gardener – I think it's because he likes riding with my dad on his lawn-mower.
When Shae, my 13-year-old, told me he wants to be a footballer, I asked him: "How seriously do you want it? He said, "It's all I want to do." So I said, "OK, then we'll let's chase this dream together. But we'll keep some other options open, too."
What advice would I give another dad when it comes to sport and kids? You have to let them be free. When I'm on the sidelines watching my son play football I say nothing. I don't get involved. Maybe afterwards I'll give him some advice about positioning or something. But you've got to let them learn for themselves.
One thing I do say to my son though is if you want to be a footballer, you have to earn it over year and years. It's all about consistency. I tell him if you make sure you're always a seven out of 10 in every session, in every game, then you're on the pathway to being a footballer.
The key to a lasting marriage? It's all about learning how to listen.
Tim Cahill is a Hero Scout this season, seeking out the best of Australia's home-grown football talent. For more information on "Where Heroes Are Made" go to www.myfootball.com.au