Steve Jaconetta is a sneaker obsessive whose collection hit 800 pairs at its peak. But he's already passed on his passion for box-fresh kicks to his young son.
Years before he became a dad, while he was still at high school, Steve started to buy pairs of baby sneakers. Already he was planning for the future.
That legacy paid off. Today, his son Corey has one of the finest sneaker collections of any 5-year-old in the world. Here, Steve a freelance writer for the footwear industry in the US (AKA "ajordanxi" in the sneaker community), explains how he passed on his love affair to his first-born son.
TFH: When did you start buying up baby sneakers?
Steve Jaconetta: The first pair of baby sneakers I bought was in 2002. They were a pair of "Black Cement" Air Jordan 3 Retros in a toddler's size 4C. They were on sale for $20 alongside the two other pairs from 2001 (Mocha and True Blue) so I picked them all up in one swoop.
I had been interested in purchasing baby sneakers for a couple of years as my collection began to grow, and I started prepping for what the future holds. As a result, I picked up a couple of pairs that year, well in advance of having my first child 12 years later. My mindset was that I knew that one day I would have children so, if I could pick up sneakers on sale here and there, I would stash them away until that time came. This way I could share my love of sneakers with my offspring, and provide them with kicks I couldn't afford growing up.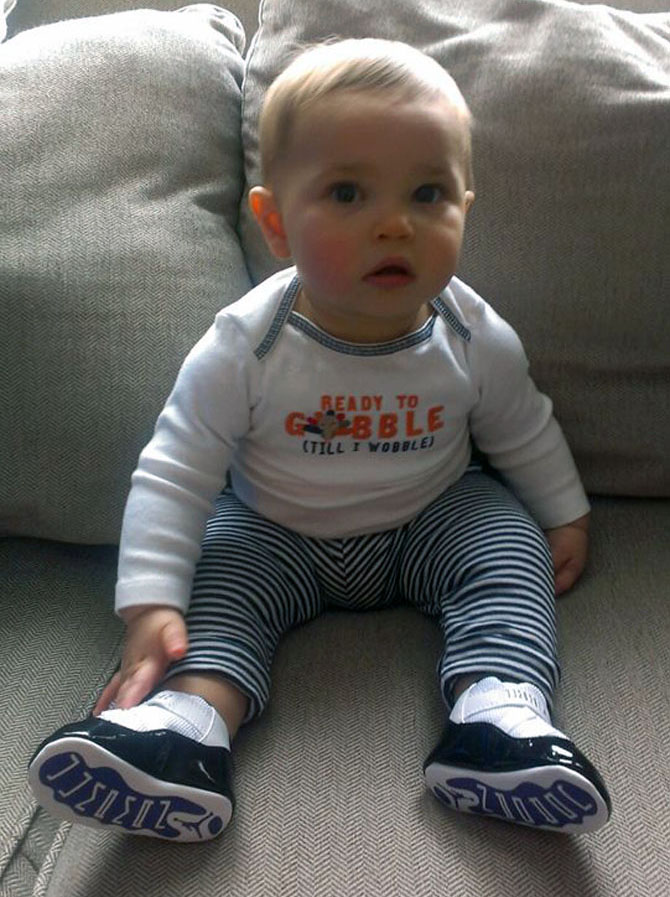 TFH: How many pairs of sneakers does your son have now?
SJ: So, my son's collection has halted a bit now. He's just turned five and is in pre-school sizing. Therefore, my stash has run out. So I'm currently just buying him pairs as he needs them or, as I see pairs I would like him to have. I also get him pairs if he sees me looking at them and says he wants them too (providing they come in his size as well). His collection currently clocks in at 100 pairs, give or take a few, with more on the way.

TFH: What does your son makes of his amazing collection?
SJ: He still doesn't get the whole concept but, he definitely recognizes it. Kids these days get into fashion and footwear at a young age, and they notice. Most likely due to us parents wanting to give our kids what we couldn't have. He definitely appreciates his collection, especially all of his Air Jordan 11s as he knows they are his "daddy's favourites." He enjoys all types of sneakers, from your run-of-the-mill light-up sneakers featuring his favourite characters on them (Teenage Mutant Ninja Turtles, Paw Patrol, Star Wars etc) to his Nike Foamposite's and Air Jordans. His current favoirites are his "Fire Red" Air Jordan 3's, "Space Jam" AJ 11's and "Spider-Man: Origin Story" AJ 1s (which he got for Christmas).
TFH: Why was it so important for you to ensure your boy has fresh kicks?
SJ: My main goal is to provide my son with the things I couldn't have. I grew up on the less fortunate side but, it wasn't horrible. So, I always had the mindset that when I had children I would provide them with everything I could. My love of sneakers and being able to share it with my son right away is an amazing feeling. If he grows out of the phase as he gets older or continues to share the passion with me, I will be content either way. It's not about him being the freshest on the block (although I'd like to say he is, ha-ha), it's about taking care of him and making sure he's all set. That's my motivation. Keeping him fresh, keeping me fresh and sharing something together that we both can love and enjoy for many years to come.