Celebrity trainer Chief Brabon can help you lose your love-handles fast. That's good news because the dad-bod phenomenon is real. In fact, one US study found that on average fathers weigh 6kg more than childless men.
That's no surprise to Chief, one of Australia's most respected personal trainers. During his 27 years in the game, he's brought boot-camp training to Australia, whipped TV's Gladiators into lycra-ready shape and overseen a slew of celebrity transformations – Guy Sebastian, Osher Gunsberg, Rodger Corser and James Stewart (above) are just some of the top names that Chief and his wife Emilie have turned into Men's Health cover guys).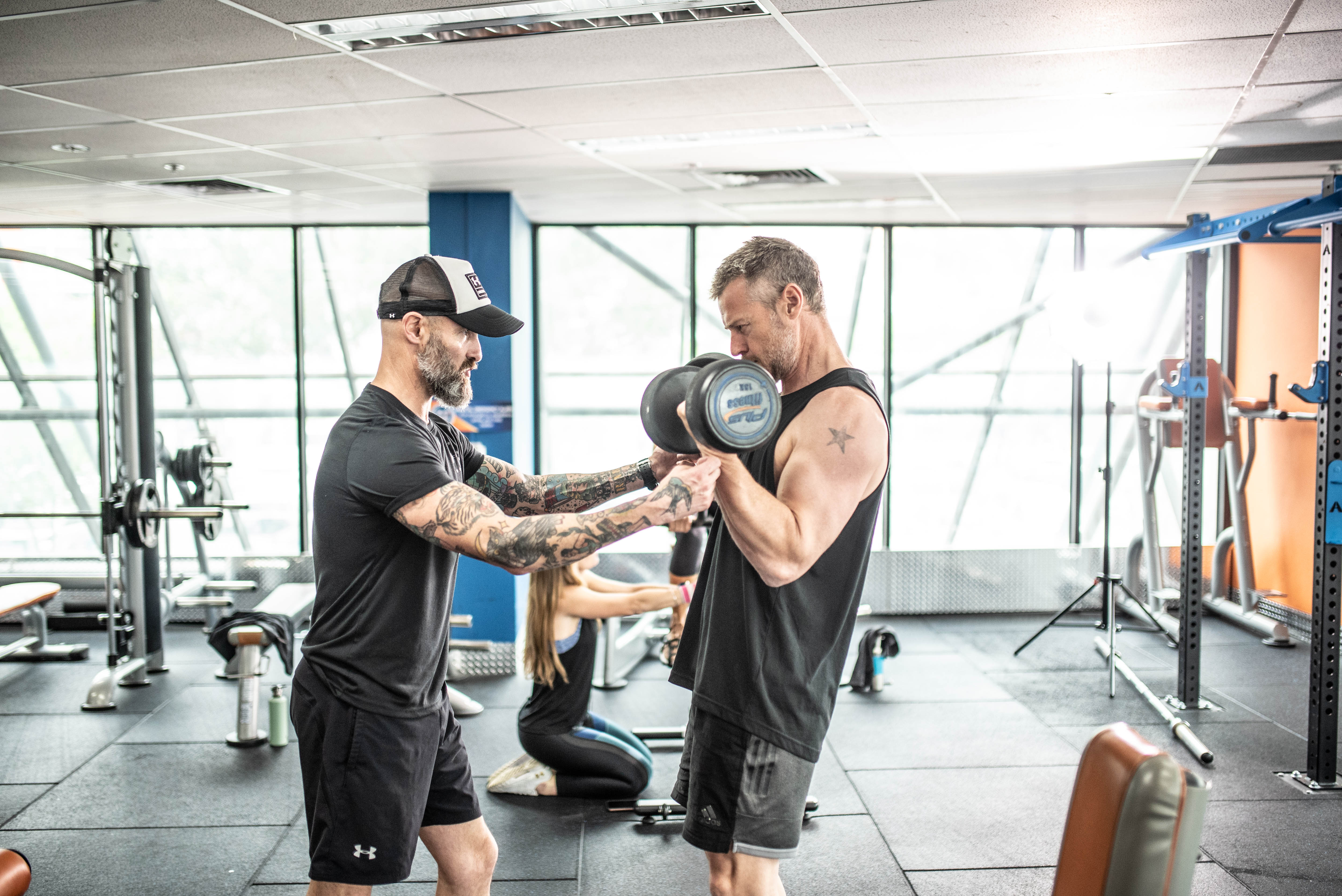 Over the years, Chief admits that he's trained countless men whose fitness regimens have been derailed by fatherhood.
"It's definitely really common," he says. "Particularly if someone is also very driven in their career. I think a lot of guys lose that momentum in their 30s when they're focusing on kids or family and work. Then, they start to re-find it in their 40s where they're like, 'Oh my god, I've let myself go – by the time my kids are 16, I'm going to be in my mid to late 50's. I need to make sure I'm healthy and strong and fit."
The only problem is that dads also tend to be extremely time-poor. This, after all, is the life stage where we're usually at the pointy-end of our careers and struggling to balance work pressures and family commitments. One study found that men who became fathers dropped an average of five hours of exercise per week.
That's why you need a workout that delivers maximum bang for your buck.
"Intensity over duration is important," Chief says. "When you workout you want to do something that's going to take you no more than half an hour to 45 minutes but that will get a result from that small period of time. That means who need to do something that incorporates both resistance training and high-intensity cardio."
But sometimes it's hard to even find 45 minutes. That's why Chief invented the Day Breaker. This is a bodyweight workout for busy men that you can bang out in 10-minutes flat. You can roll out of bed and tackle it first thing with no equipment and zero fuss
"Worst-case scenario, that's the only workout you'll get for the day," Chief says. "Best-case scenario, you might be able to do something else later in the day. But, no matter what happens, you start the day with a workout."

The lowdown:
1. Do 30 seconds of push-ups
2. Do 30 seconds of jackknives
3. Do 60 seconds of mountain-climbers (20 seconds on / 10 seconds off x 2)
Repeat the circuit as many times as you can in 10 minutes.
Check out Chief and Emilie Brabon's training plans: at 8 Weeks to Wow