Ten shots of inspiration from the frontline. Over the last two years we've interviewed hundreds of dads. They've include parenting experts and academics, psychologists and childcare specialists, international celebrities and ordinary dads.
This forum distils 10 of the very best pieces of wisdom that we've heard. They've changed the way that we operate as parents and they might do the same for you, too.
TOPIC IN BRIEF
Being a dad is the most meaningful thing we've ever done and the hardest. It's the highest of highs and the lowest of lows. And it's particularly challenging right now. Parenting roles and expectations have changed forever. This creates huge challenges but also endless opportunities.
Don't just take our word for it. We've spoken to the brightest thought leaders in Australia to tell you where this is headed, where the opportunities and challenges are, and how you can win at your dad game in this brave new world. In this Forum we provide 10 eye-opening pieces of inspiration and fresh perspectives that will focus you on achieving your best life as a father today and tomorrow.
WHAT DOES YOUR TEAM LEAVE WITH?
What our current situation truly means for you and your family
A demonstration of how these perspectives embody the future of fatherhood
Practical ideas that you can immediately action to improve your dad game
A connection with other dads – we're all in this mess together
A heavy dose of inspiration – let's do it!
RECOMMENDED AUDIENCES
Parents, dads, all – it's the perfect uplifting message for Father's Day.
THE FATHER HOOD CORPORATE PACKAGES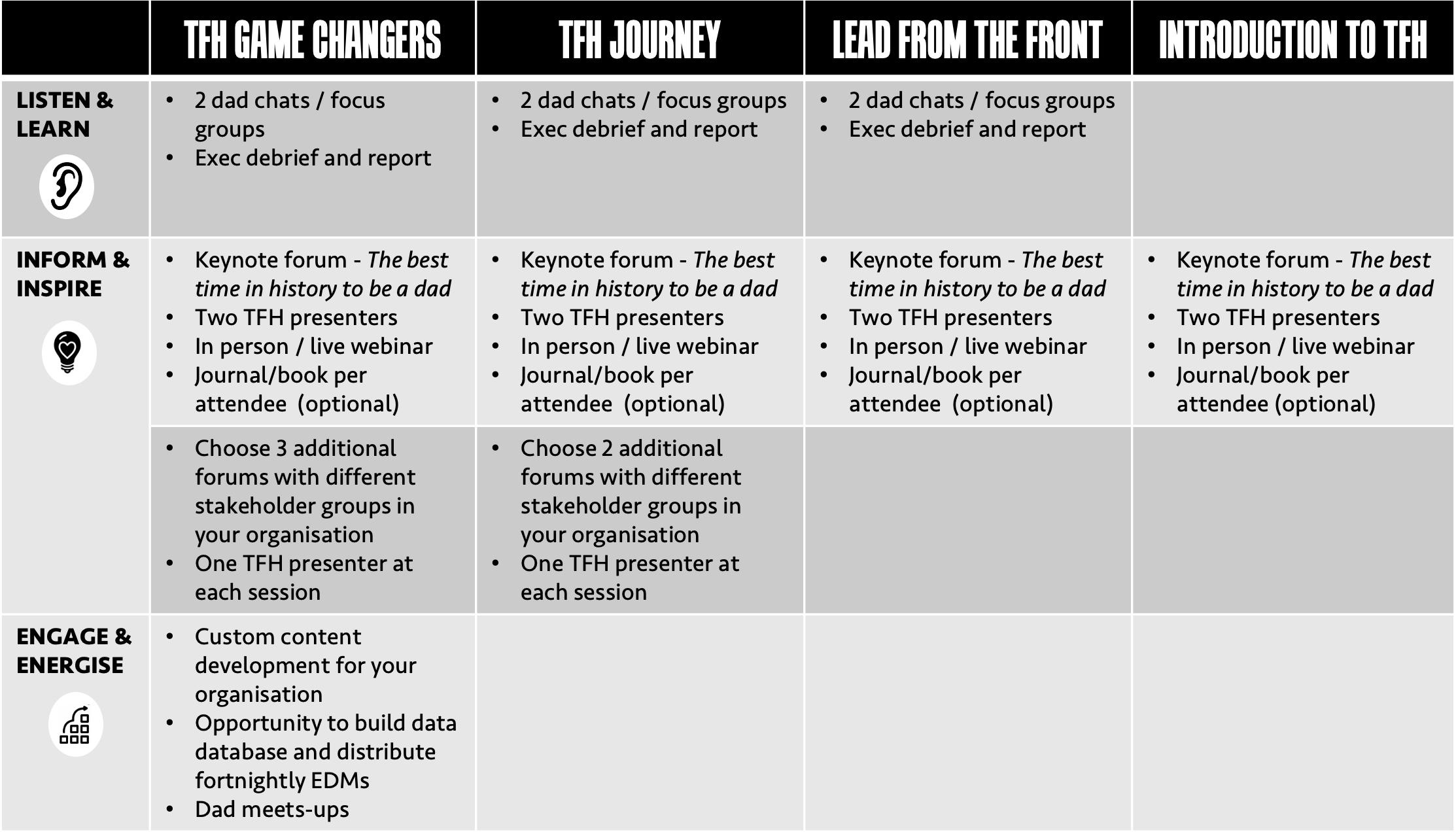 To learn more about this presentation and others that The Father Hood team can deliver to your organisation, please email jeremy@the-father-hood.com