When Donte Palmer headed to the bathroom in Jacksonville, Florida to change his son's nappy, he didn't know he was about to start a global movement.
But an Instagram pic showing him being forced to squat down in the toilets to change his baby highlighted a pressing issue. As Donte explained in his original message:
"This is a serious post!!! What's the deal with not having changing tables in men's bathrooms as if we don't exist!! #FLM #fatherslivesmatter clearly we do this often because look how comfortable my son is. It's routine to him!!!! Let's fix this problem!"
Overnight, that message went viral. People around the world voiced their support and started sending in photos of their own similar experiences. The result was Squat For Change, a global campaign to raise awareness of the lack of changing facilities for dads.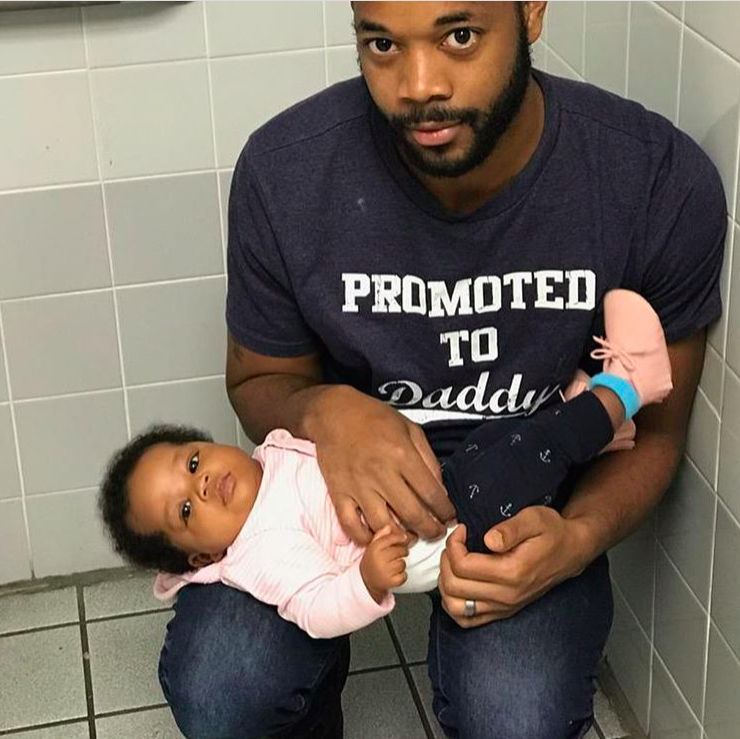 The impact of Donte's post highlights the global zeitgeist of the hands-on dad. In 2019, fathers are now more actively involved in their children's lives than ever before. But that change isn't always reflected by prevailing attitudes and facilities. Luckily, men like Donte are tackling that challenge head-on. Here he recalls how one random moment evolved into a movement for modern dads.
Donte's Story
"It was a Saturday night and I was with my family in a local restaurant, the Texas Roadhouse, when Liam, my one-year-old, started crying.
"If you're a parent and your baby starts crying, you know that it's always one of three indicators: they're either tired, hungry or they have a wet diaper. In this case, I found out it was pretty much all of the three.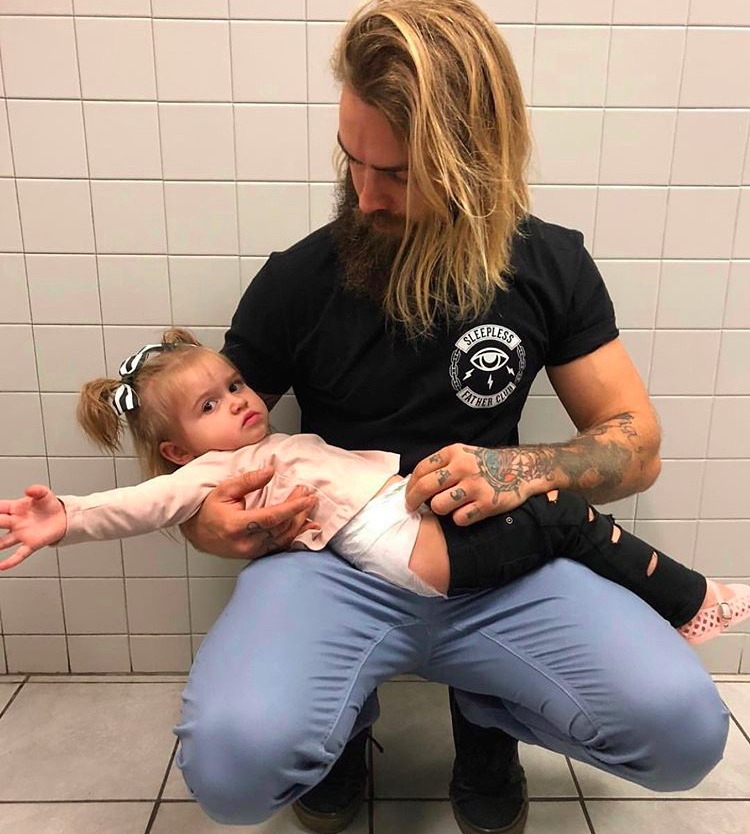 "So I went to the men's restroom with the baby and Isaiah, my oldest son, came to help me. There was no changing table and honestly I wasn't very surprised. So I got into what I call my 'perfect man squat' with my back against the wall and begin to change Liam's diaper across my thighs. It was nothing out of the ordinary.
"Isaiah handed me the diaper and the wipes and then, when I was putting the diaper on, he pulled his phone out and just starts snapping some pictures. And that was all there was to it. The picture wasn't even posted that day.
"Two weeks later, I was at home watching the game and going through the phone, kind of bored. I came across that picture, thought it was interesting and decided to post it on social media to get some reactions from family and friends.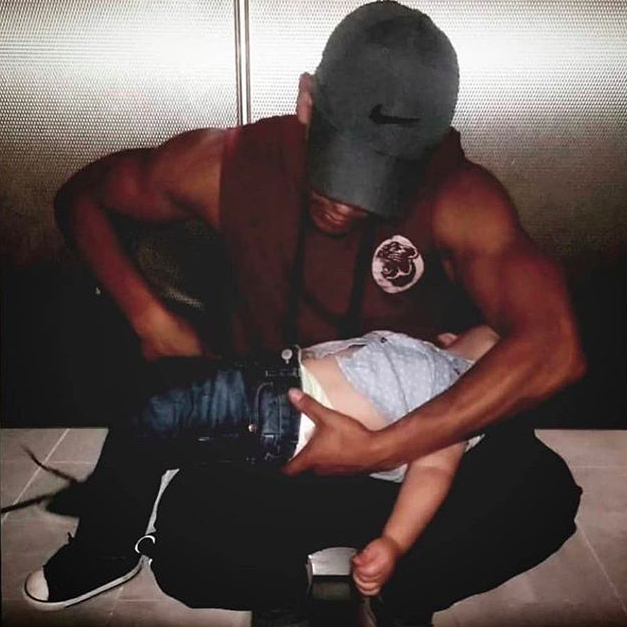 "The next morning, my wife texted me: 'Hey, check your phone.' When I picked it up, there were literally about 1000 plus notifications on Facebook and Instagram. My phone was ringing. Reporters were messaging me, calling me.
"From that moment on, it has not stopped.
"To me, it's really amazing how one non-partisan issue can bring a lot people together as parents, regardless of background, regardless of culture, regardless of sexual orientation.
"We had an outpouring of positive messages. Jessica Alba emailed me directly on Instagram and said she supported my campaign and that she wanted to give us free diapers for life.
"We had people reaching out from across the world. Parents from Australia, South Africa, Brazil, Korea. We had people from Gambia in West Africa saying, 'Hey, we don't even have toilets, but we still stand and support your movement.' And I was like: 'Wow!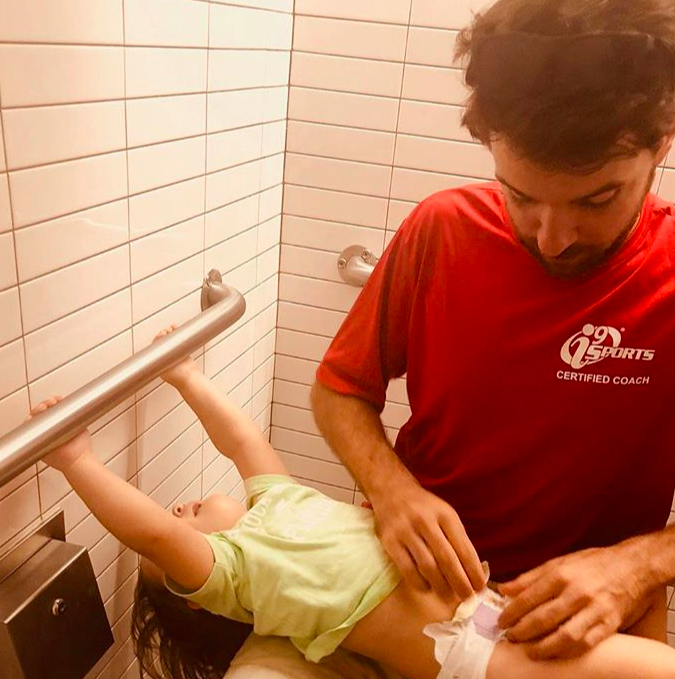 "Why did that picture go viral? Honestly, I think it's deeper than just changing tables. What it shows is that men are now willing to be active parents. And I don't know if that was really the case 20 years ago.
"It shows a change in the narrative by saying the mothers aren't just the caretakers anymore and that men – strong men with strong attitudes or strong personalities – can also be sensitive and say, 'Hey, we're here to really support and take care of our kids.
"I love changing my kid's diapers because that's a time when I'm looking at him eye to eye and it's meaningful. Right there, he can feel in his heart that his daddy is here and he cares for him.
"When you're an active parent, your child knows: 'I can come to this man for anything, cause he cares for me, he doesn't judge me and if I have any problems, he's the first person I would go to, because I know damn well he'll be there to protect me'."

squatforchange.com

All pictures taken from Donte Palmer's Instagram account @3boys_1goal