Something positive happened in our house during lockdown. The kids didn't catch a single cold. That might not sound remarkable but, trust me, it would've merited a round-the-clock block-party if it wasn't for all that pesky self-isolation business.
Generally, you see, my wife and I fight a constant losing battle trying to staunch the flow of our kids' permanently runny noses. Our household is like some sort of sick joke. Except it's not one of those funny jokes. More like one of these interminable shaggy-dog stories that goes on and on and on. Just with slightly more chafed nostrils.
The fact that your child seems to cop a non-stop succession of colds isn't just an illusion either. Young kids are particularly vulnerable because they haven't built up their immunity to the more than 100 different cold viruses that lurk around. As a result, they can clock up as many as 8 to 10 colds each year before they turn two years old. Frankly, that sounds like a conservative estimate to me.
One side-effect of lockdown was that our kids – aged two and three – weren't socialising with their similarly plague-ridden pals. Throw in the fact that their hands were being scrubbed with a paranoid zeal on an hourly basis and somehow they managed to stay cold-free.
But then the lockdown rules were relaxed. Play-dates were duly arranged. Both children decided to make up for lost time by instantly contracting a pair of stinking colds. By the first day of winter, their noses were once again streaming and the right shoulder of my jumper veneered with a familiar epaulet of their dried snot.
Not only do colds make your children even more miserable and demanding, the lingering threat of COVID adds an extra layer of parental unease. Does your toddler just have a common cold? Or has he been perilously afflicted with an airborne virus hailing from a wet market in Wuhan?
As a result, the latest gizmo to get the seal of approval in our household is the Withings Thermo, a Wi-Fi connected smart thermometer.
The best thing about this is that it requires zero contact with the skin. Not only does this make it ultra hygienic when dealing with the potentially sick, but it's really handy for using with wriggly small children (previously we had an in-ear thermometer that was far more cumbersome. Weirdly, kids don't seem to love you sticking foreign objects into their ears when they're already ill and super tetchy).
To work the Thermo, you just waft it over the forehead in a smooth arc, ensuring it passes over the artery at your temple. It uses 16 infrared sensors to record the temperature and vibrates after two seconds to confirm that it's taken a reading. When the temperature flashes up on the LED display on the side, the screen will show a coloured light – green, amber or red – to indicate its level of concern.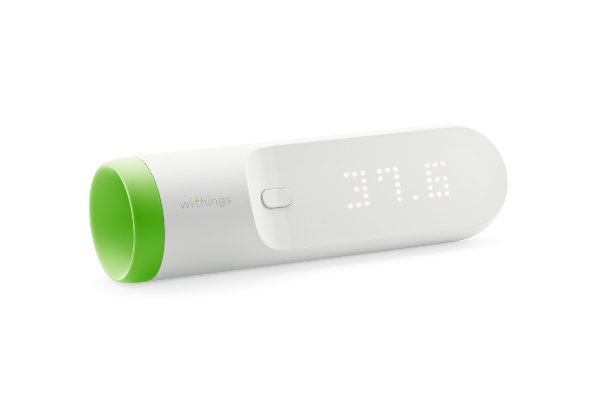 As it's a smart device, you can also download an app to enable the Thermo to talk to your phone. This allows you to keep a record of up to 32 temperatures for different members of your household, which could be useful if you were discussing a problem with your GP.
The thermo uses two AAA batteries that should last two to three years. (NB if you temporarily remove these to stick into your child's TrackMaster™ Motorized Thomas The Tank Engine to alleviate a violent tantrum then do try to remember to replace.)
In short, the Thermo is a pretty ingenious bit of kit whose sheer user-friendliness justifies the not inconsiderable price-tag. If Withings could now just get on with inventing a cure for the common cold then I'll be truly content. Or at least drink fewer medicinal hot toddies.
The Withings Thermo retails for $179 AUD and is available from JB Hi Fi, The Good Guys and Withings.com.