I owe Matt Damon a lot. He inspired me to write a movie with my best mate after I saw Good Will Hunting*. He got me into the Dropkick Murphys thanks to the opening scene of The Departed. He taught me that dumping your girlfriend on Oprah was a bad idea, so that I wouldn't ever make that mistake myself.
But the best thing Matt Damon ever did for me was marry someone with a stepdaughter and then promptly have three more daughters close together. Fast, furious human production.
You go Matt. Go like the wind. Because when this exact roadmap of a life unfolded before me – meet dream girl with 12-year old daughter, get engaged in 10-months, get married in 15-months, start firing out three baby girls – in a rapid-fire four years, I was cool. I was covered. I had Matt Damon in my corner.
The only problem was, we hadn't met.
The closest we had got before Monaco was a drunken Montblanc event in Geneva, when I was seated next to his then agent. After a litre of Pinot Noir, I thought it would be a good idea to tell Matt Damon's manager that Matt Damon was my spirit animal. The only person on earth that would ever really understand me. Well, Matt Damon's manager thought that was just hilarious. She texted Matt immediately: "I'm sitting next to a guy that says you're his spirit animal." There was a deafening lack of reply that plagues me to this day.
But fate had a meeting in store, a couple of years later, when he showed up on a boat in Monaco that had previously been inhabited by me, Chris Hemsworth, a couple of watch journalists and some staff, all hosted by TAG Heuer.
The beauty of this bizarre three days in my life was that there was no real urgency to what happened next. We were living on a boat together. We had a few drinks at the bar a few times. Just two fellas on a superyacht. Standard. Pretty early on I was able to admit it to him I was the weirdo that his agent had been referring to in 'that' text message about the spirit animal. He didn't remember the text message at all. Or at least he pretended not to, which was very kind.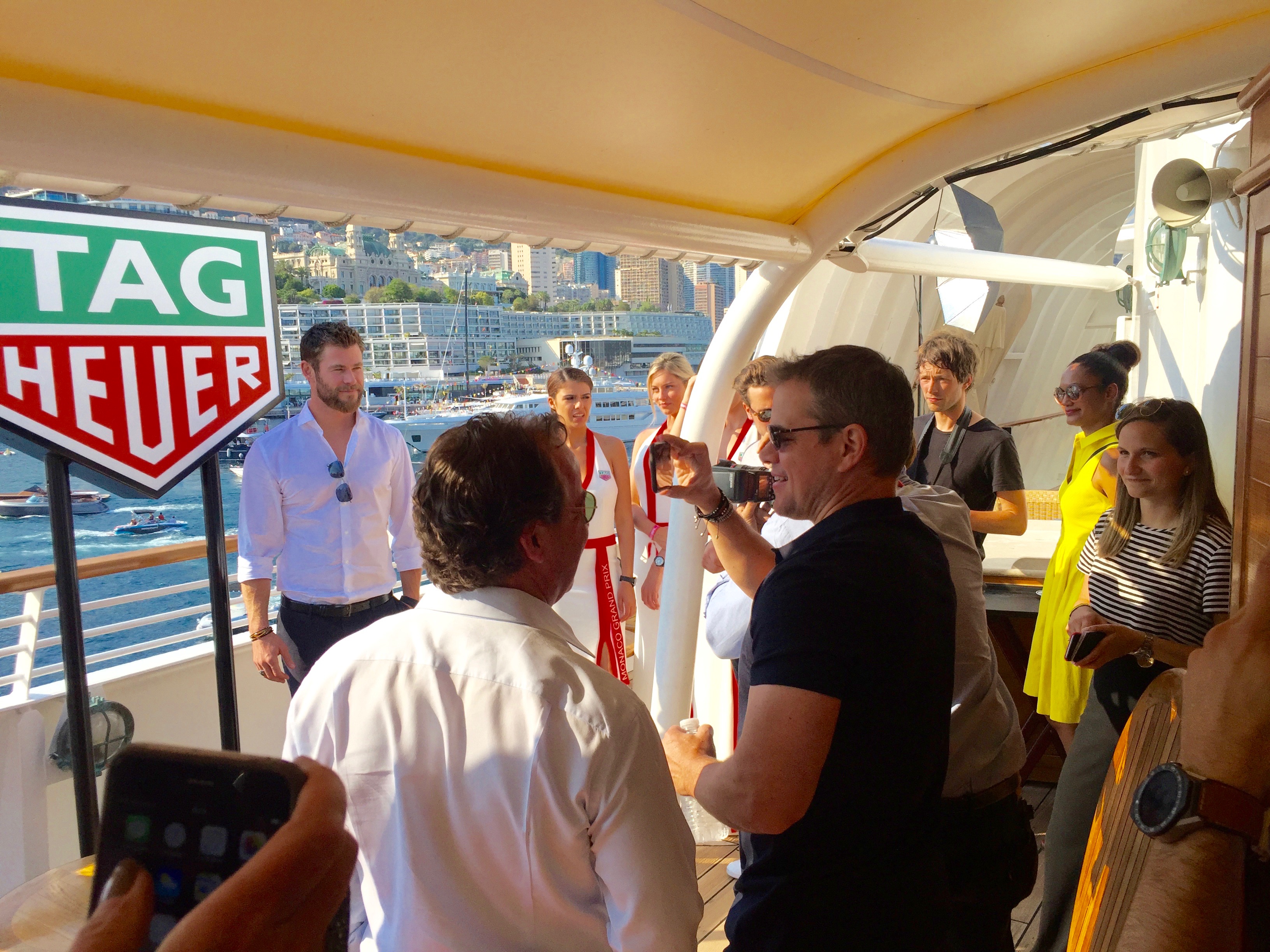 So, it really was chill. And when we talked about our families in the TAG Heuer lodge overlooking the Monaco F1 track, this wasn't the usual dignity-destroying type celebrity scenario. I was eating canapes with my spirit animal. We'd already said "hey". We'd had a couple back on the boat. When my beer was finished, my spirit animal caught the eye of the Monaco barman and gestured for two more.
Meanwhile my wife was texting me saying her friend Zoe had seen me in the background of Elsa Pataky's Instagram story and what the actual fucking fuck was I doing having fucking canapés with Matt fucking Damon!! The following is a rendering of the conversation I was having over beef carpaccio with Matt. I wasn't recording it. But I didn't forget a single goddamn word. It went something like this:
Guy that looks like me: We have the same life. Help me. Do you have any tips?
Guy that looks like Matt Damon: You want tips? There's no tips, you're just in it. We call it the blur. (He leans over to his wife Luciana and shouts, "This guy's in the blur!" then slaps me quite hard on the back.) But now she'll see babies and want to hold them. Even now we look at pictures of the kids when they were babies and she feels sad. She misses that.
GTLLM: How old was your stepdaughter when you guys met? Did you get much of the cute accepting phase? I had about 6-months. My stepdaughter was 12 when we met and she used to like it when I played guitar to get her to sleep. Not so much now at 18.

GTLLMD: I was there for all of it with my Alexia. From four. I was lucky, I was accepted by her. Her dad missed all of that, he missed all those golden times. And he knows it. He's a good guy. It turns out he was addicted to pain killers for like a decade. He just disappeared into it. He was flaky. He did a lot of damage. And she felt that damage. But I'm proud. I'm happy. She's dating a really nice guy.
GTLLM: So she's not doing that thing where you date your dad?
GTLLMD: No! She's dating a good guy. He treats her well.
GTLLM: She's dating the Matt?
GTLLMD: She's dating the Matt! She's not dating the bad boy.
GTLLM: What was your dad like?
GTLLMD: My dad hated his job, but did it to support us. My mum loves her job, she's a professor. But she was never paid enough. My dad always wanted to instil in us that hard work pays. He retired at 53. He started coaching a school baseball team. That's his dream. He never wanted too much. That's why he's happy. He didn't have complicated dreams. My brother is an artist and I'm an actor. He couldn't be happier. He couldn't be more proud of us.
GTLLM: How do you survive with all the kids and your schedule?
GTLLMD: We had a nanny. But five years ago, we wanted to wean our kids off her. She hurt her elbow and I went off on a movie and my kids lost their two caregivers in one go. It was traumatising. We now have more of a house manager, who organises things.
I recount this story because it then led on to an interview with Chris Hemsworth that also found itself focused on fatherhood. You can watch it here.
The two experiences changed my life.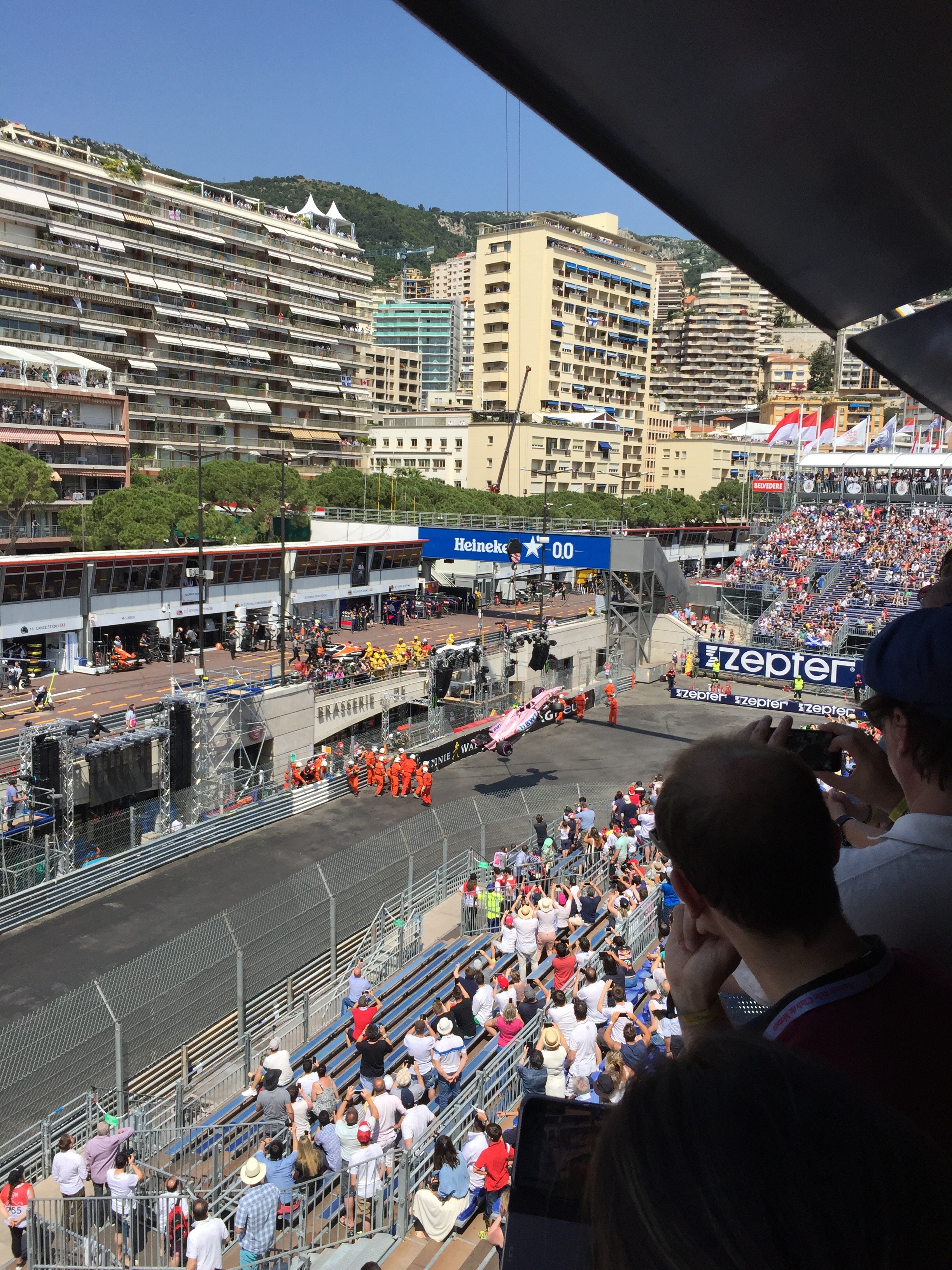 The next thing I did, on the plane home from Monaco in May 2017, was write to the then editor of Men's Health Luke Benedictus, who was a mate thanks to the hundred or so events we'd been to together, and pitch an idea for a magazine about dads that showed how heroic it all could be, how connected we all are, even though we often feel like we're in it alone.
He was courteous, he was generally supportive, but later I found out he hated the name I'd proposed (it wasn't The Father Hood). About six months later, an intense conversation with Jeremy Macvean, a marketing guru that was fast becoming a friend, landed on a question: were other dads as lost as we were? As inspired? As similar? Yes! Said Jeremy. Most of my friends are exactly the same!
And so, a perfect storm of fatherhood serendipity. Here we are. The Father Hood is real. This is happening. And, barring my daily moments with said daughters, and said Superwife, I've never been happier about anything in all my life. Thanks for being here. We can't wait for what happens next.
*My friend and I did write a movie, thinking how hard could it be? It was a short film called My Wife Your Wife. It made the finals of the MTV 180 Project in the mid 2000s. Which is pretty incredible. Because it was terrible. Garbage. How I wish I could link to it so you could see how utterly pretentious and pointless it was. But, one of the judges Abbie Cornish seemed to like it. At one of the terrible jokes in it, she actually slapped her thigh with laughter. I have done many things in my life. I like to thing that making Abbie Cornish slap her thigh with unbridled joy is right up there.