Comedian Adam Hills reflects on his relationship with his dad, his inherited love for the Rabbitohs and his advice for any new dad.
Bob Hills, my dad, worked in the Qantas cabin crew. The inflight motto, he always used to say, was: "If it moves, call it sir. If it doesn't put parsley on it.
As far as I was concerned, my dad's job was to fly around the world and talk to people over the microphone. Is it it any wonder that I do what I do now?
How did my dad influence me? Well, on holiday, when I was about eight, I remember someone calling him "the nicest man in Qantas". That made me proud. You want to be like your heroes and my dad was definitely one of my heroes.
When I was three-days-old, my father brought a red and green toy rabbit into the hospital to ensure that I'd be a Rabbitohs fan for life. He always took me to the game as a kid – we talked about them all the time. When dad died, his Rabbitohs hat was on the bed next to him. That toy rabbit now sits in my daughters' playroom.

It doesn't matter how long ago it is that you lose someone. You have those moments when you want to tell them something. When the Rabbitohs played the 2014 Grand Final, I flew back from London to watch them win. After the game we were all singing: "Glory, glory to South Sydney". Suddenly, I had tears in my eye because I just wanted to turn to my dad and put my arm around him. It's a ridiculous thing the way sons bond with their fathers over sport."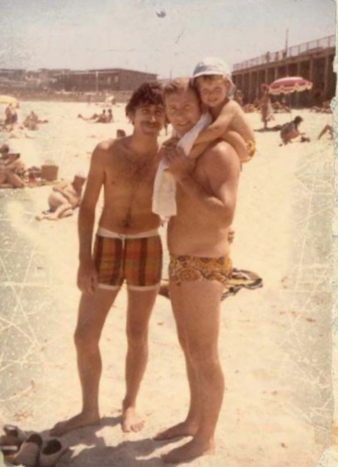 Having kids did change me (Adam has two daughters aged 6 and 10). I think fatherhood makes you more confident in yourself. More grounded.
As a father you need to be present. When my dad was away for work he'd be away for days and weeks at a time. But when he was back he always had all the time for you – we'd come back from school and sit together and watch cartoons. When I'm with my kids I always try not to do anything else.
Fatherhood changed the way I work. It made me more focused. It made me not want to take every single gig. I'll only do them now if I think they're worth it. I'll turn down corporate jobs, say, because I want to be back home for bedtime.
What advice would I give to a new dad? Don't get too down on yourself when you do something wrong. If you lose something, put a shoe on the wrong foot, lose your temper… just go easy on yourself. As long as you're trying to be a good dad that puts you way ahead of the game.
I was holding my dad's hand when he took his last breath. It was both beautiful and terrible. In some ways it was the worst moment of my life. But to be able to be there for him meant a lot.
Adam Hills autobiography Best Foot Forward is out now. Buy it here