When you become a dad, your gym schedule tends to go out the window. The reason? You're suddenly more time-poor than ever before. In fact, one study found that new fathers dropped an average of five hours of exercise per week.
That's why bodyweight training that you can do anywhere suddenly makes sense. That's the belief of Matt Fox (pictured), the 32-year-old trainer behind bodyweightbuilt.com and the father of two-year-old, Harley. He insists this training method can be the workout solution for any man frantically trying to juggle their work commitments and family life.
"Before I was finishing my nine-to-five then fighting through peak-hour traffic to get to the gym. Then I was facing peak-hour traffic in the gym, too, because everyone is trying to do the same thing there. By the time I'd get home, it could be 7pm. So the gym just wasn't really practical for me. And it's not practical for a lot of dads with young kids."
As a general rule, if you don't have much time and you're trying to exercise as efficiently as possible, Matt recommends sticking to full-body workouts.
"Focus on doing something where you hit very muscle group in the whole session and then keep your rest to a minimum," he suggests.
"Mix up things like pull ups, chin ups and dips as well as jumping lunges – explosive movements, things that get the heart rate up. That way it's also like a cardio workout at the same time."
Try Matt's fat-burning workouts below to lose your lard cummerbund before summer hits.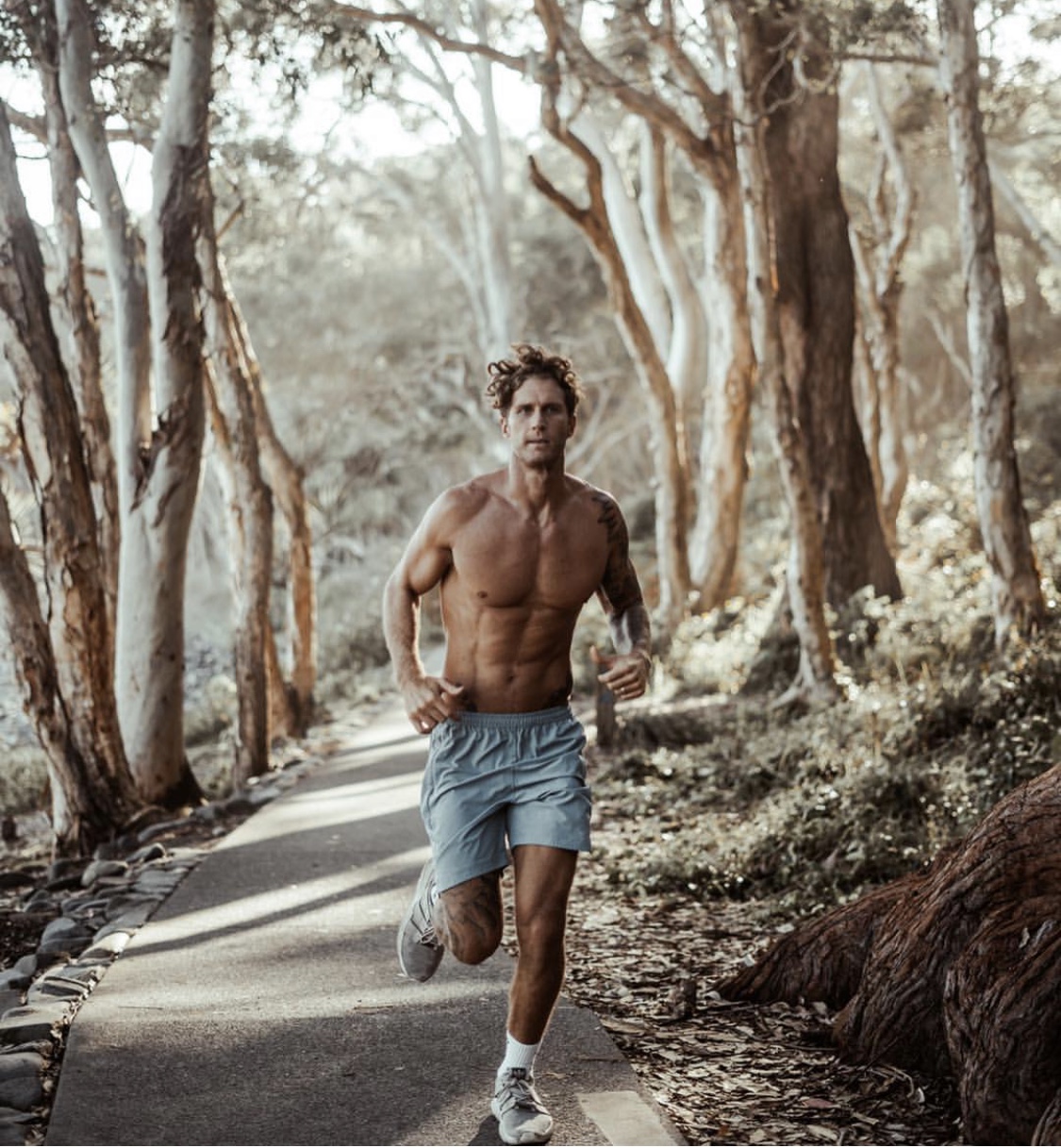 WORKOUT 1 (Ladder format)
Each pair to be done as a superset with minimal/no rest until the pair is complete. Work your way down the rep ladder, starting from highest. Rest for 90 secs at end of the pair before moving onto the next pair. Click on each exercise to get Matt's video demonstration.
A1: JUMPING LUNGES
REPS: 50/40/30/20/10 (IN TOTAL, NOT EACH LEG)
A2: BEAR CRAWLS 10M
REPS: 5/4/3/2/1
Example: Complete 50 jumping lunges in total, then do 5 x 5m of bear crawls, back onto 40 jumping lunges, 4 x 5m bear crawls and so forth down to you've completed 10 and 1 x 5m
B1: JUMP SQUATS WITH LATERAL STEP
REPS: 50/40/30/20/10
B2: SHOULDER TAPS (IN TOTAL, NOT EACH SIDE)
REPS: 50/40/30/20/10

C1: KICK SITS
REPS: 50/40/30/20/10 (IN TOTAL, NOT EACH SIDE)
C2: LYING FLUTTER KICKS (IN TOTAL, NOT EACH SIDE)
REPS: 50/40/30/20/10
D1: SIDE SHUTTLES
REPS: 50/40/30/20/10
D2: MOUNTAIN CLIMBERS (IN TOTAL, NOT EACH SIDE)
REPS:50/40/30/20/10
WORKOUT 2 AMRAP- AS MANY REPS AS POSSIBLE IN GIVEN TIME
ORDER
EXERCISE
A BURPEES as many as possible in 50 SEC (10 SEC REST)
B REVERSE BURPEES as many as possible in 50 SEC (10 SEC REST)
C PRONE KNEE TAPS as many as possible in 50 SEC (10 SEC REST)
D LEAP + SHUFFLE as many as possible in 50 SEC (10 SEC REST)
E SUPINE TOE TOUCH as many as possible in 50 SEC (10 SEC REST)
F V-SIT UPS as many as possible in 50 SEC (10 SEC REST)
G KICK THROUGHS as many as possible in 50 SEC (10 SEC REST)
REST 2 MIN
COMPLETE 4 TIMES THROUGH
All pics courtesy of Instagram: @mattycfox