Dan O'Leary is an actor and musician who became a dad at the age of 26. Two years ago, he left Sydney to go and run a restaurant in the Hunter Valley where he now lives, squeezing in acting work and touring whenever he can. We're profiling Dan as part of the Calvin Klein At Home Series, celebrating all different types of dads in the lead-up to Father's Day.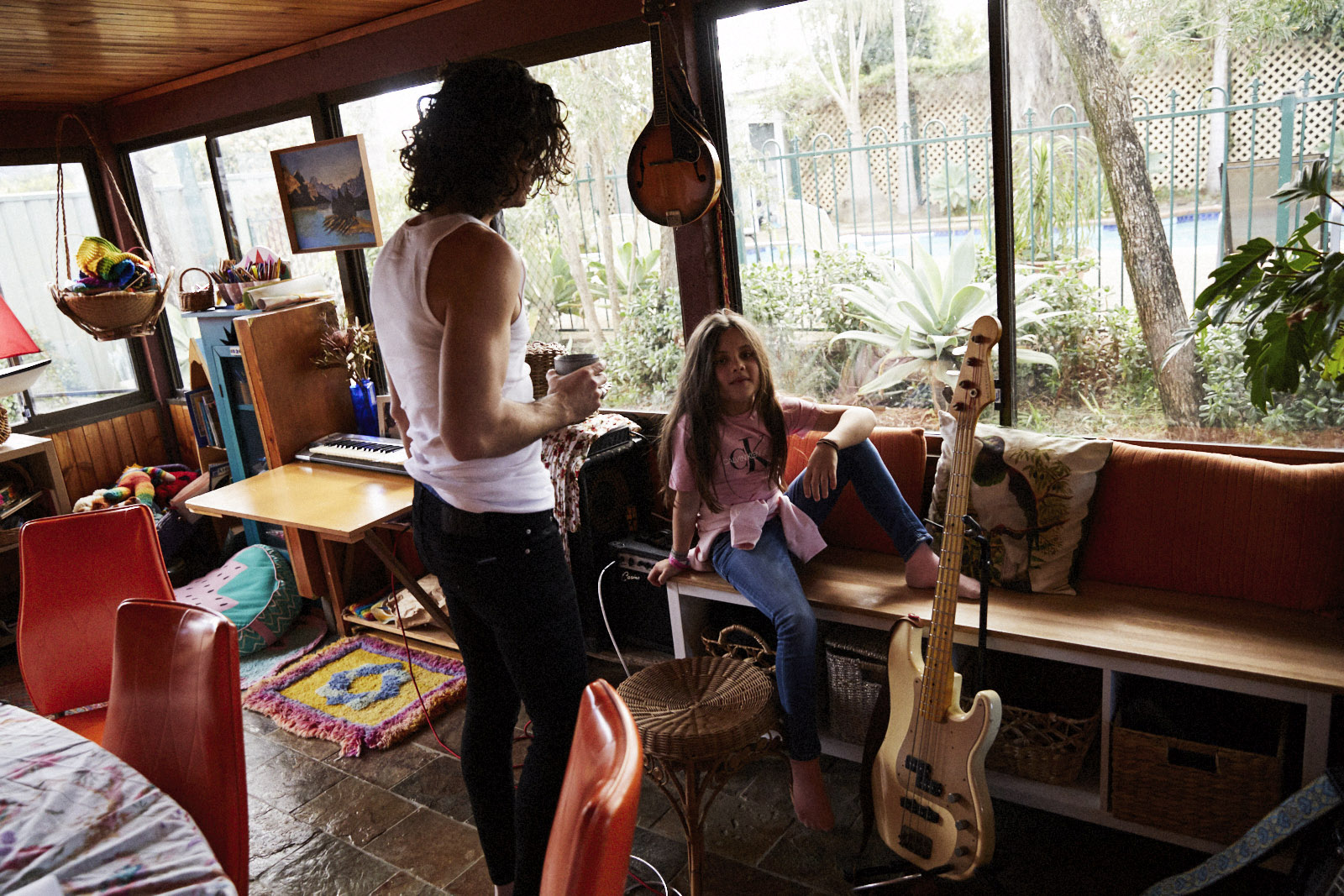 "You've called at a good time. My daughter just nailed her first-ever back-flip on the trampoline. Yeah, it's a big moment.
"We relocated from Sydney to the Hunter Valley just over two years ago and I opened a restaurant. Part of moving out here has been great. It's joyful to see my daughter around my parents and my sisters – she's got heaps of space now and a trampoline, all of that stuff. But I am a little conflicted, for sure. Part of me still has that kind of urban pulse flowing through my veins. Then again, that's probably life in general, right?
"I became a dad when I was 26, so Coco is nine now. But I always knew I'd be a relatively young dad. I had lots of friends that always talked about feeling the need to have lived their lives and established themselves and achieved financial stability before they became parents. But I never felt like that. I liked the idea of having lots of energy, of taking my daughter with me on my journey. I wasn't nervous about becoming a dad. Ever. I was always comfortable with the idea."
"When Coco was born, it was maybe the only time that I felt really good in my adult life. I took heaps of time off work and I remember very distinctly realising that I now had something more important than myself to focus on. I found that hugely relieving, not having to think about myself all the time. I loved that feeling.
"At the time, I was playing bass in a band that was doing a heap of shows and everyone in the band was pretty unruly and there were lots of late nights. But when Coco was born I took a little break from alcohol and spent a year not drinking. I just recognised that I could easily be led astray and I made a decision not to be. I wanted to remain more in control of the experience. With Coco, I didn't want to miss a thing."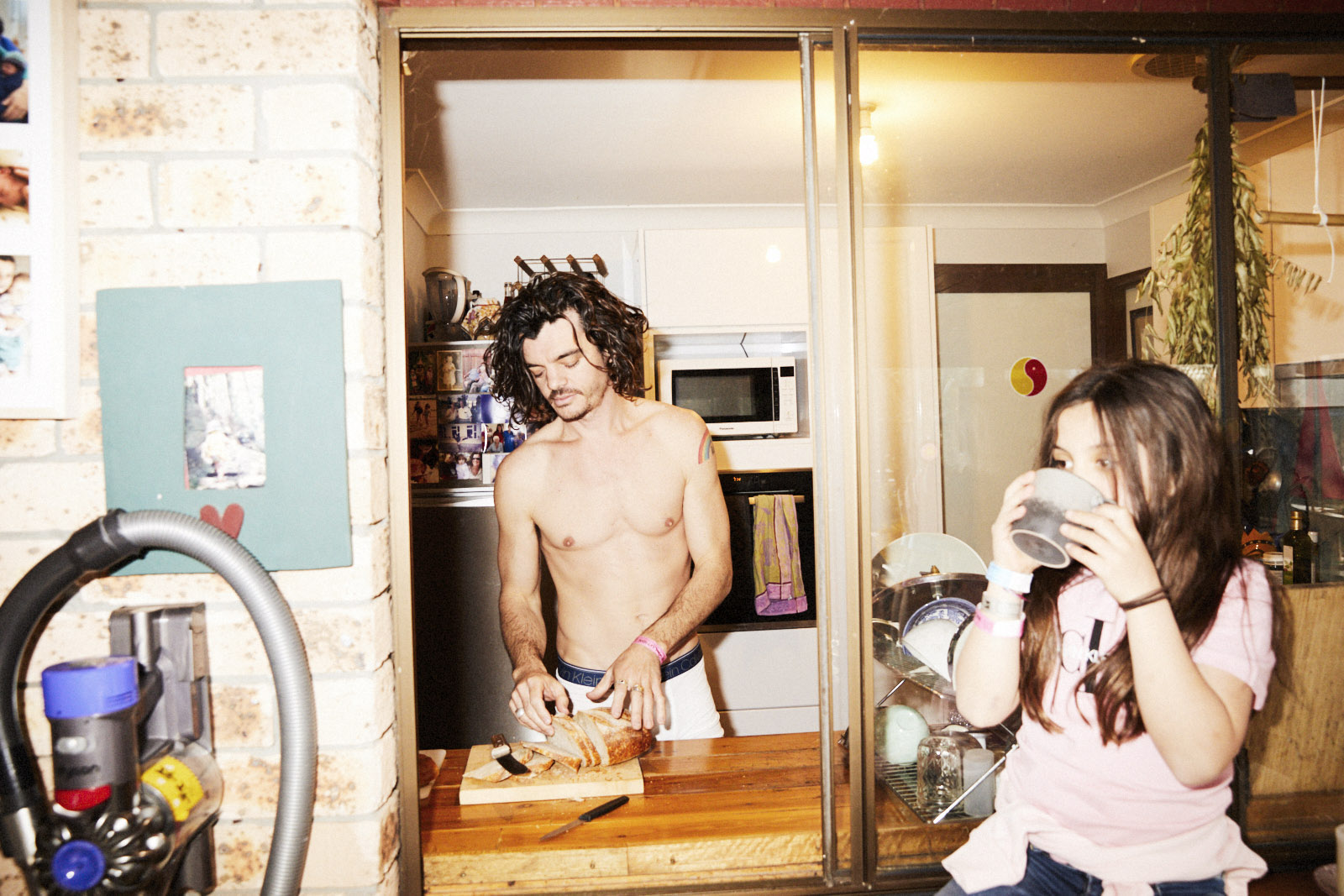 "I actually got her an electric bass, a three-quarter size one, for her ninth birthday. We've been doing bass lessons together and she's super awesome. It's been really cool revisiting my musical foundations – we've also been playing a lot of James Jameson basslines and Marvin Gaye's What's Going On. Although Coco is pretty obsessed with Billie Eilish – she's a full fan girl.

"I think one of the main reasons I was so comfortable going into fatherhood was down to my parents. They didn't put their lives completely on hold for us, but they did kind of define themselves by their relationships with us. I feel very grateful for my upbringing."
"My dad is super capable. He's one of those renaissance men that can do everything. He built our first house and also built a wooden boat in our backyard. There's been some interesting stuff written about men who build these boats at home that they can't get out of their garages. It's like this metaphor: they yearn to get to the open waters and escape, but they just can't fucking do it. And everyone always said to my dad, 'There's no way you're going to finish it, let alone get it out of the garage.' I still remember the day that he got it out of the garage and proved everyone wrong. I was very impressed by that.
"What I've found hardest about fatherhood is when that early blissed-out part starts to fade and you have to confront your own ego and ambition. Suddenly you've got to deal with the sheer grind of everyday life and having to make money. It's hard when that starts to take over again and gets in the way of that pure elation. Now I'm trying to establish this small business, we've had crazy bushfires plus, of course, a global pandemic to deal with. Those bullshit monetary concerns can start to corrupt your relationship and your focus. I found that really challenging."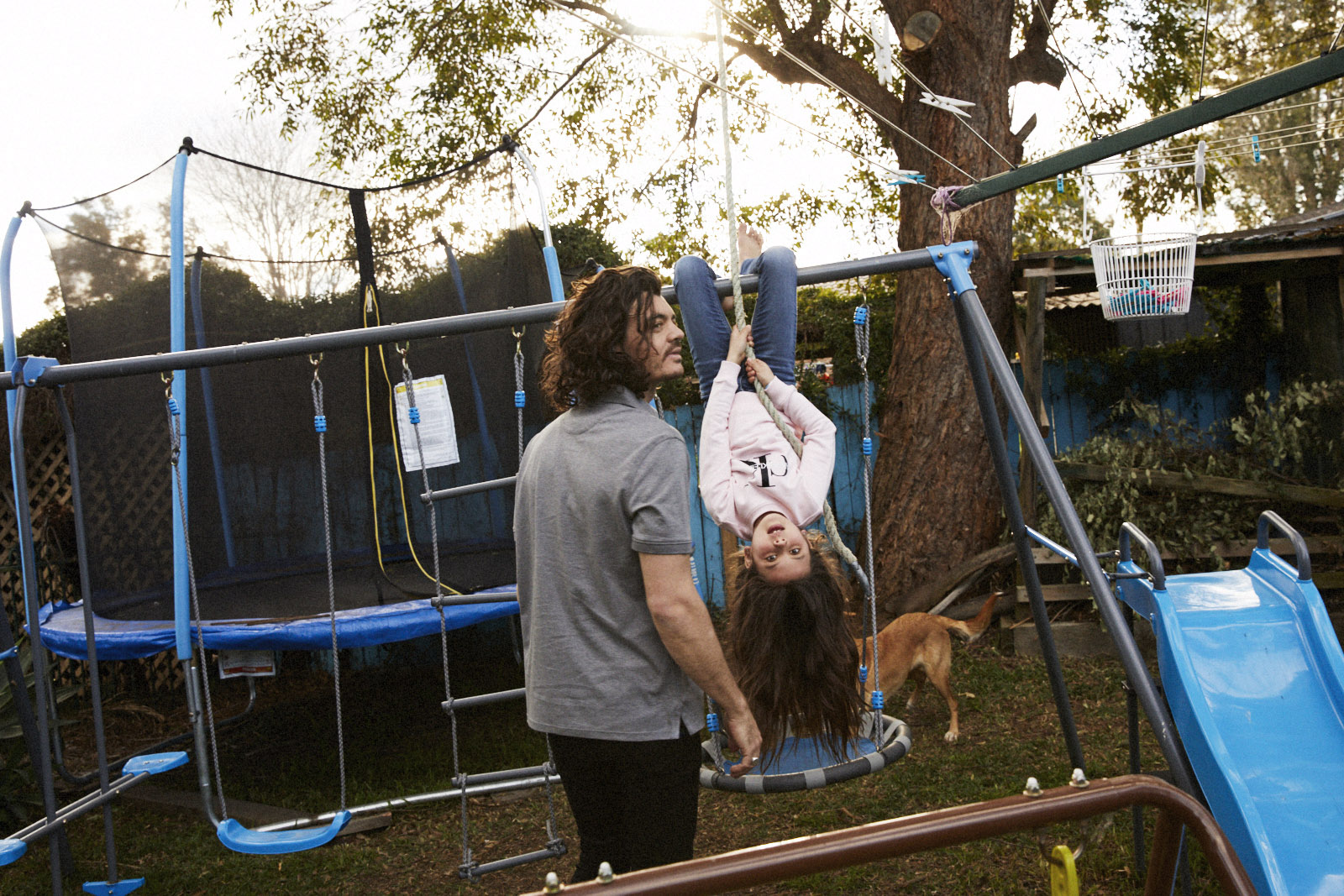 "How to I deal with that? I keep going back to the responsibility that I feel to my daughter. As parents we're so crucial to the foundations that our kids take into the world, how they apply themselves, deal with all the inevitable shit and have a really fulfilling life. The stakes are high, so I have to keep it together. That's my motivation. But I see that responsibility as 100% a positive thing.
"What I do know is that being a dad is just the one thing in my life that I always knew that I could do, that I would be good at and that I love doing. It really is the only thing. And I love it."
Shop the Calvin Klein Father's Day range: here
Photography: Ben Sullivan